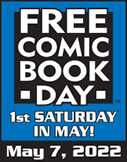 Every first Saturday in May is Free Comic Book Day- the comic book industry comes together to give away free comics and encourage fans, both old and new, to flock to the best place in the comic book community: local comic shops.
Fans also love dressing up in costume for Free Comic Book Day, showing off their favorite series. Many stores throw their own events, bringing in cosplayers, local comic book creators, and partner with local businesses to make Free Comic Book Day one of the best family events throughout the year.
Participating comic shops in the river region are:
This shop will have door prizes, prizes for wearing a costume, special deals when you purchase, cosplayers, free pizza from Pieology Pizza and more!
For more info about festivities at this store check out their facebook event page here.